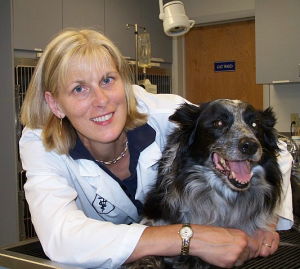 Dr. Anne Fessler:
Dr. Fessler is the founding owner of Farmington
Veterinary Hospital. She attended Cornell University
for both her undergraduate and veterinary medicine
degrees, gaining her DVM title in 1984.
She grew up in Farmington, NY and fulfilled a childhood dream to establish a
veterinary practice in her hometown. She is married and has four children
ranging in ages from 23 to 16 years old. Dr. Fessler is also currently guardian to
5 cats and 1 Border Collie dog. Her professional interests lay firmly implanted
in general medicine. She enjoys the variety that general practice generates
as well as the contact it creates with fellow community members The
challenges presented by the broad range of medical and surgical cases that
are treated at Farmington Veterinary Hospital combined with the pleasure of helping "neighbors" will keep her satisfied for a long time!
Dr. Christine Boshart-Adamson:
Dr. Chris graduated from Cornell University's College of Veterinary Medicine in 1996 and has
been employed at the Farmington Veterinary Hospital since 2001. In 1999, she became board
certified in animal chiropractic care from the American Veterinary Chiropractic Association. In
addition to preforming chiropractic adjustments on her patients, she enjoys practicing all
aspects of general medicine and surgery.
Outside of work, Dr. Chris enjoys hiking, camping, and traveling. She enjoys spending time
with her family, both human and animal members alike. Dr. Chris shares her home with
her husband and daughter, as well as a retired racing greyhound named Flora, a lab/shepherd
named Darby, and three cats named Tony the Baloney, Linus, and Lubie Loo. The barn is occupied by a 21 year old Thoroughbred named Muddy River and his young donkey companion named Dooley, as well as two barn cats who have recently taken up residence-appropriately named Pete and Repeat.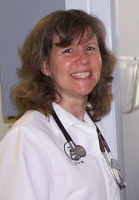 Dr. Sarah Nicolson:
Dr. Sarah ("Sally") Nicolson grew up in the D.C. area with lots of animals to care for including
dogs, cats, rats, mice, turtles, gerbils, lizards, chickens, goats and horses. Her eclectic
career has included earning a Master's in Marine Biology, teaching aerobic exercise, and
working as an accountant prior to attending Cornell University and receiving her DVM degree
in 2000. She worked at another animal hospital for two years before taking time off to have her
first child. She started work at Farmington Animal Hospital as a relief vet in 2003 and later
came on staff permanently. She is married with a 9 year old son and twin 3 year old daughters.
She also shares her home with two cats and a lovable mutt dog. Her father always told her to
find something she loves to do and then find a way to make a living at it. Veterinary medicine
fits the bill perfectly—allowing her to raise her family and also spend time helping furry critters
and the people who love them.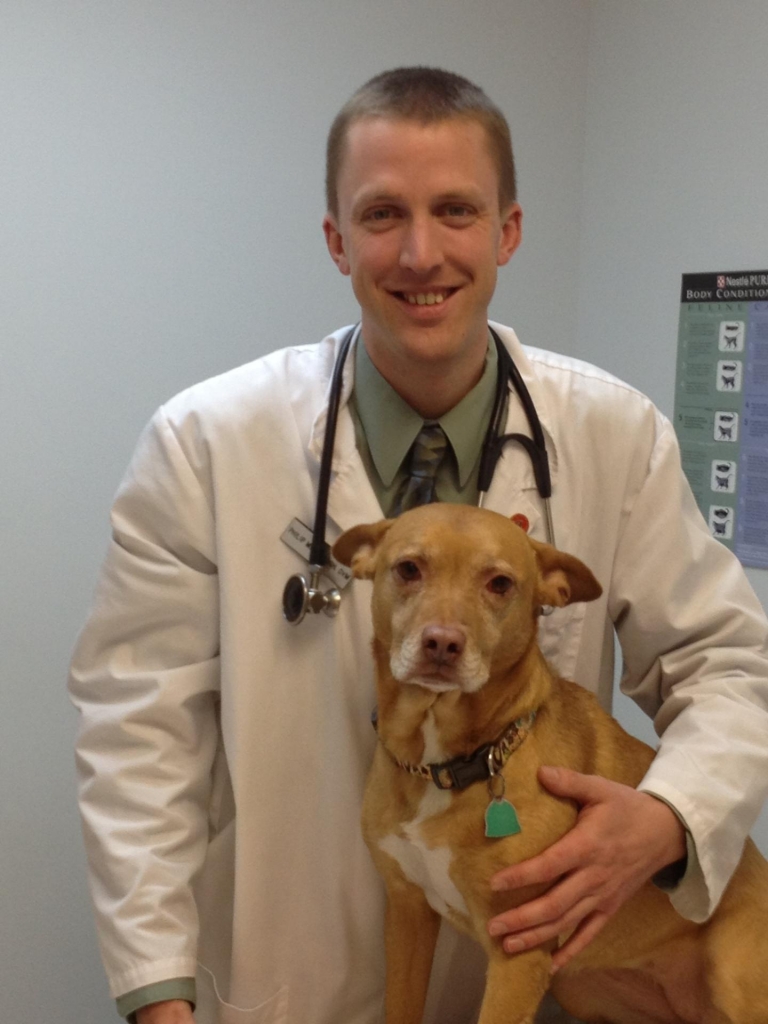 Dr. Phil Millspaugh:
Dr. Millspaugh grew up in Niskayuna, NY outside Albany. He graduated from Binghamton University with B.A.'s in Biology and Music. In 2010, he completed the DVM program at Cornell University. After completing his education Dr. Millspaugh pursued a rotating small animal internship with Atlantic Coast Veterinary Specialists and was later an intern at New York Veterinary Specialty and Emergency Center. His primary professional interest is surgery, especially orthopedic and minimally invasive surgeries.
When he is not in the office taking care of patients, Dr. Millspaugh enjoys marathon canoe racing, alpine skiing, hiking, playing piano, and singing. He shares his home with his 7 year old mixed breed dog, Coral.